Background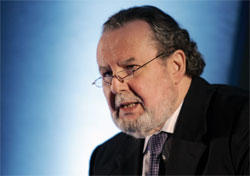 David Worlock is a Cambridge History graduate who joined Thomson Reuters as a trainee in 1967, and subsequently worked in educational and academic publishing before managing Thomson's school-based publishing as Group Executive Publisher in the late 1970s. Between 1980-85 he was CEO of the pioneer development of EUROLEX, the UK's first online service for lawyers, subsequently acquired by Reed Elsevier in 1985. In that year he founded Electronic Publishing Services Ltd, a research and consultancy company based in London and New York which has worked alongside the digital content industry in developing strategies for products and markets in consumer and business sectors. Content environments have ranged from text to audio-visual, from online to wireless, from narrowband to broadband. Major projects included the development of Fish4 of which he was non-executive chairman for five years. Public consultancy work includes advisory services and projects for the European Commission, the Department of Trade and Industry, the British Library, QCA and the Soros Foundation.
During this period David served as non-executive director of Dorling Kindersley plc, prior to its acquisition by Pearson, and Book Data Ltd, which he co-founded, prior to its acquisition by VNU.  He has also held a variety of non-executive posts, including Creature Labs (intelligent life-form games environments), and Panlok (DRM). For 25 years he was a non-executive director of the international operations of the Bureau of National Affairs Inc. From 2009 to 2015, he was a media advisor to Bridgepoint Capital. He was an advisory board member of Ingenta and Granville Baird. David was also Chairman of the Digital Content Forum, which formed a two-way conduit between the 36 UK information industry organizations in their dialogue with government on digital content issues. Other public appointments included his roles as a member of the Advisory Panel on Public Sector Information (Cabinet Office) and as the independent commercial representative on the Content Advisory Board (Department for Education and Skills). He is a member of the Industry Advisory Board at the Oxford International Centre for Publishing Studies, Oxford Brookes University, and acted as publishing adviser to the National Academy for Gifted and Talented Youth at the University of Warwick. In 2004 he acted as Special Advisor to the House of Commons Select Committee on Science and Technology's enquiry on Science publishing. In 2015, David was appointed as Senior Advisor to Quayle Munro Ltd ( now Houlihan Lokey)
In 2006 David and his colleagues sold Electronic Publishing Services to Outsell Inc., the California-based sector leader in information industry research and analysis. David, having left Outsell, now co-chairs and manages Outsell's Executive Programs, in which some 150 industry CEOs and strategists meet in nine councils on both sides of the Atlantic to look at the long and short term strategies which will need to be implemented to secure the future growth and profitability of the sector. He continues to speak and write widely on industry issues.
David has worked closely with industry trade associations. He was for 10 years the initial  Chairman of the Business Information Industry Association (BIIA) which represents the views and conducts the advocacy of the industry in Asia-Pacific (www.biia.com). For five years he was chairman of the European Information Industry Association, and then of the Information Communication Industry Association. He has been a member of subcommittees of the Publishers Association, the Periodical Publishers Association and the Newspaper Society. He is currently an Advisory Board member at IFIS (International Food Science Information Service) and at ELIG (the European Learning Industry Group). Key concerns about data strategy and the increasing progress towards machine learning and artificial intelligence led him roles as an advisory director at  Map  of Agriculture , and at Wizdom.ai , while an ongoing interest in Open Access led to a similar role at Knowledge Unlatched.
Other interests include a passion for rugby football (he is a Gloucester supporter – proud to be called a "a one-eyed Shedhead"), for history and literature, and for pig farming and the state of British agriculture.
In 2013 David was honoured to receive, from the PPA, the George Henderson Award for lifetime achievement for his work in publishing and information marketplaces.
He can be reached at david@davidworlock.com.